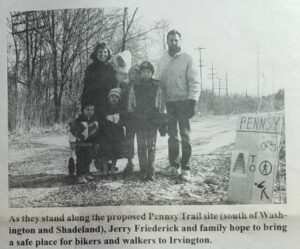 We wanted to share an interesting letter from Jerald P. Friederick regarding the early development of the Pennsy Trail on Indianapolis's East side. Enjoy a bit of local history!
Hello,
I thought citizens would be interested in some of the history of bringing the Pennsy trail to the east side of Indianapolis.  Back in about 1998 or 1999, I was inspired from my wife's hometown (Sparta, WI), first Rails to Trails in the nation (https://dnr.wisconsin.gov/topic/parks/elroysparta), and seeing what a great place for families and individuals to recreate or use for business with railroad tunnels and business's next to it, I asked the Indy Parks and Recreation (Ray Irvin) what I could do to get the Pennsylvania Central corridor to be like the Monon?  He said to make a petition to show support because the Parks had $25,000 to do a study for making another trail in the city.  After collecting about 1000 signatures (seems a lifetime ago, now), The Pennsy received the grant for the Irvington area.  I included pictures of our family standing on the now Pennsy trail @ Kitley Avenue looking east in February of 2001 from an article in the "Irvington", local paper at the time.  I am an avid cyclist (2300 miles last year) and use the trail for business (groceries, hair cut, etc.), leisure and for our Boy Scout troop at Our Lady of Lourdes Catholic Church in which we clean the trail about once/year.  Lastly, I might post more articles, pictures and newspaper clippings I have kept over the years and thank you to Mary Ann Wietbrock for promoting the trail and to make the east side a great place to live.
Enjoy cycling and God's nature!
Jerry Friederick Scoutmaster of Troop 8