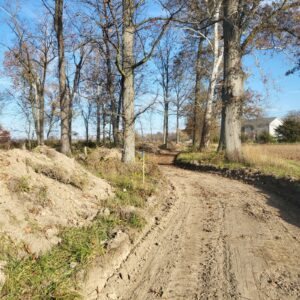 Pennsy Trails is growing. The 400W-600W section in Hancock County will connect to Cumberland, Irvington, and Ellenberger Park.
The 400W-500W property was in part donated by the Town of Cumberland & Washington Village Apartments, and also purchased with DNR funds. The trail design was completed by First Group Engineering and constructed by E&B Paving Inc funded by a federal Transportation fund. The 400W-500W section is now open to the public.
400W Eagle Station trailhead is the site for environmental education for adults, scouts, students and families. The paved parking area and and educational signs are handicap accessibility. Ben Palmer has constructed an outdoor classroom for his Eagle Scout project. This site provides a space to support the 3rd grade Life Sciences Curriculum and the Boy Scouts Environmental Sciences scout badge required for the Eagle Scout Project. The area was cleared of honeysuckle by Boy Scout Troop 115, Elanco corporate workday, and our dedicated volunteers. The educational signs were developed by Pennsy Trails board members with the help of Hancock County Master Gardeners and constructed and erected by Wagner signs. We are looking for help to erect a shelter in the spring.
The 500W-600W section is in process. Hancock County purchased this section and is being constructed with DNR funds from the Next Level Trails grant.  The environmental review was completed by Mary Ann Wietbrock, a Master Gardener, Master Naturalist, consulting with the United States Geological Survey team, worked on the Sugar Creek Watershed Project, and consulted with local agencies on the local Doe Creek Ditch. The design has now been completed by WSP. The trail is currently under constructed by Hancock County employees and Monroe LLC. We are waiting on a grant for trail crossing signals for both 500W and 600W.
We hope to have a grand opening for the 400W to 600W section on National Trails Day, June 3rd, 2023.
This article was updated on November 11, 2022.
Pennsy Trails of Hancock County Inc.
PO Box 214 New Palestine IN 46163