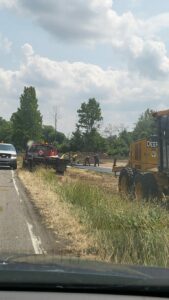 The Pennsy Trails in Hancock County is now connected 20 miles from 400W to the Indianapolis Zoo. This regional trail is part of the National Road Heritage Trail (NRHT.org) working its way across the state between Richmond and Terra Haute.
The Pennsy Trails recently extended this multipurpose trail from 600W at Mt Comfort Rd to 400W at the Eagle Station trailhead. Many organizations were involved in this effort as we work to connect Cumberland to Greenfield.
400W-500W purchase was funded by the Bicentennial Nature Trust and Indiana Heritage Trust funds from the Indiana DNR. The trail was then constructed in 2019 by INDOT's Transportation grant.
Eagle Station at the 400W trailhead was cleared by many volunteers, scouts, and corporate work groups. It now hosts an outdoor educational program for youth, scouts, and adults. The outdoor classroom was installed by Ben Palmer for his Eagle Scout project. The shelter was built by dedicated volunteers. Funds for this and the parking lot were funded from Duke Energy Foundation and Cardinal Elements Weight Loss & Wellness. Hancock County Master Gardeners work with volunteers to maintain this wildlife habitat restoration project to control invasive honeysuckle.
We are now excited to connect the newest section between 500W-600W. The purchase of 500W-600W was funded in part from Nine Star Connect, the Community Foundation of Hancock County, from donors to the Pennsy Trails of Hancock County Inc 501c3 nonprofit. All donors are listed on our website at PennsyTrails,org.
The 500W-600W trail construction was funded by the DNR's Next Level Trails grant and work completed by Monroe LLC, Twisted Fence, Vail's Construction, Accurate Striping, Ott's Parking Marking, and our Hancock County employees as a match for the NLT grant. Additional safety Solar Crossing signals have been ordered and will be installed this summer at the 500W and 600W Pennsy Trails crossings funded in partnership with the Pennsy Trails of Hancock County Inc, the Town of Cumberland, and Hancock County Highway.
We are currently working to complete the purchase of 400W-300W at this time in part funded by the DNR's President Benjamin Harrison Trust fund and we are working to write another grant to the DNR's Next Level Trails grant to construct this section.
Volunteer and more info at PennsyTrails@gmail.com